Get 1msite membership:
grab the opportunity to make money from your website!
Our affiliate program is an easy way to "monetize" high traffic website by using:
your website
your blog
your facebook page
your mailing friend list 🙂
Everyone can increase profits with 1msite affiliate program.
Join the affiliate program, it's simple and absolutely for free. Activate your account today! Complete the registration procedure and get our approval.
If you want to join our affiliate program, please contact us at info@1msite.com
How to start earning money
Embed 1msite banner which you can download from the Affiliate Dashboard, into your site or blog in order to do that you need to choose the format and then copy and paste the HTML code.
We will send you your affiliation code via e-mail, so you can start monetizing your website.
Benefits
Percentage can vary depending on the cost of each of 1 Minute Site purchase, which is bound to display 1 Minute Site banner on your website
1$

for every registration on 1msite and spreading the banner posted on the affiliate website we offer:

50% off

if you buy Basic version (save $24 total, tax included);

50% off

if you buy Professional version (save $42, tax included);

50% off

if you buy Business version (save 114$!, tax included)
Who can become a member ?
Everyone gets an opportunity to become an affiliate, but it's obligatory to own a website, a facebook account or a mailing list. The website doesn't necessarily need to be created with 1msite.
In order to have a possibility to manage the affiliate dashboard and banners or consult the remuneration budget, you only need to complete the free 1msite registration.
Requirements
1msite staff can refuse the participation in the affiliation program within 30 days starting from the day when we received the filled in application form. This can happen only if the potential affiliate is not considered to be appropriate or if the website contains controversial material.
Membership and Methodology
Once the request for the affiliation is accepted, the affiliate will receive an e-mail with all the further instructions. The affiliate will get special tools, set of banners to publicise on the site and a link to log in to the dashboard, where the affiliate can monitor purchases made by customers.
Set membership materials
This is an banner sample, size: 336px X 280p
Check out other available formats below:
300px X 250px – 160px X 60px – 180px X 150px – 234px X 60px – 728px X 90px
Banner format for the membership
Make a post to your Facebook profile wall, then invite your friends to create a website with 1msite for their project, but don't forget to add your membership link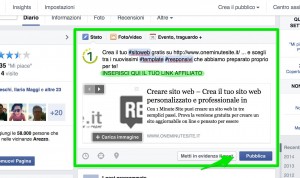 Request for information
The applicant has read the information below, in particular what it refers to the privacy and accepts the registration and processing of the data entered once you click the submit button Terms of Use